Before I tell you more about the Sincerely Santa Project Kit, here are more pictures from this years Creative Escape….. I am still hearing about the wonderful time all the participants had!
And a few more of the cards we made…..
Sincerely Santa Project Kit
Stampin' Up's kits have so improved over the years!  These Christmas tags are beautiful, vibrant, and so fun to receive on a package!
Come October 25th – it's on a Thursday evening.  Just drop in anywhere 6-9pm and make the kit for $26.  This includes a nice decorative tin to hold all 30 tags.  You will make 6 each of the 5  tags for a total of 30 tags for yourself OR to give as a gift.  RSVP and payment to me by October 15th please – that's next Monday.
OR gather at least 5 friends and your kit will be FREE!  Just let me know you would be interested.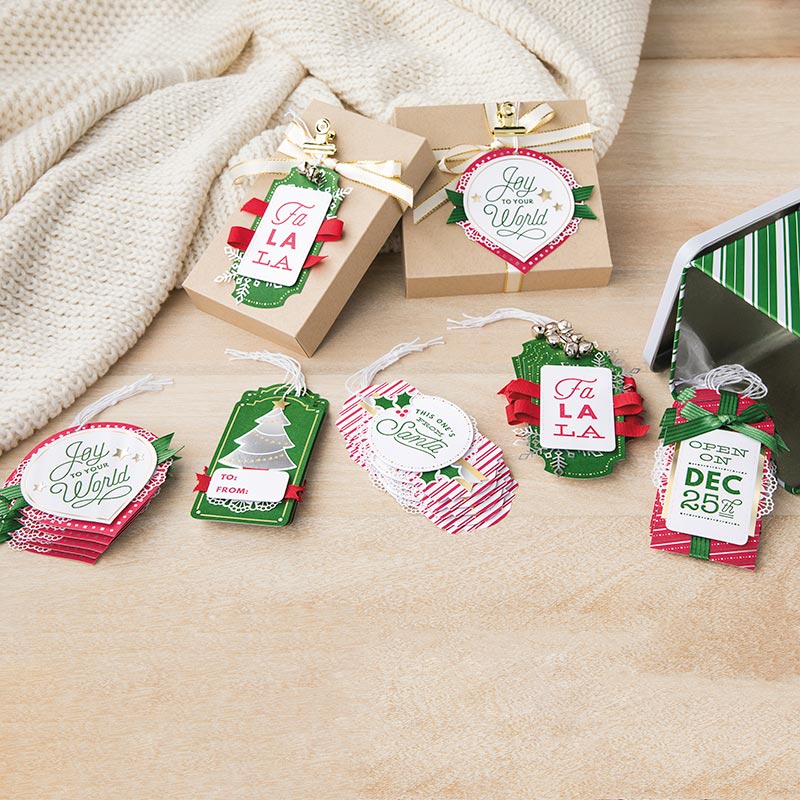 Also, Timeless Tidings Project Card Kit is available…..this is a beautiful card kit and so easy for first time crafters!  Invite your friends for a fun evening making spirits bright and crafting to share joy this season!
Cost for Timeless Tidings Card Kit is $24 or invite 5 guests so your kit will be FREE from me!
Many of you know, most Sundays I stamp with my mother.  This Sunday, mom pulled out Rose Wonder Stamp set (retired) to use.  I paired it with a current stamp set, Abstract Impressions and Garden Impressions DSP for this card.  It's a take off from the Center Step card from Creative Escape.  Below is a picture of where to cut and score to make this card.
October Stamping Schedule
Yikes!  Did I just type October? ! ?  Where does time go!  Seems like it is in faster gear the older I get!  There is so much I want to do!
Wednesday, Oct. 10th – Morningside club at 10:00am, Barbara is our hostess
Saturday, Oct. 13th – my hubby's Demo and art show reception at Bliss Gallery 2-4, please join us if you can
Tuesday, Oct. 16th – Lucille Tatum card class at 1:15pm, Please RSVP to Pam 704-865-3291
Tuesday, Oct. 16th – Stephanie & Friends at Denny's 7:00pm
Thursday, Oct. 18th – Sr. Center card class at 1:00pm Please RSVP to Esther
Friday, Oct. 19th – Gastonia club at 10:00am, Annette is our hostess
Friday, Oct. 19th – Stampin' Divas at 6:30pm
Saturday, Oct. 20th – Team Meeting at 10:00am   Bring 15 Christmas Swaps.
Saturday, Oct. 20th – Scrapbooking at 6:00pm
Thursday, Oct. 25th – Sincerely Santa Christmas Tag class 6-9 Please RSVP and payment by Oct 15th
Saturday, Oct. 27th – Jodi stamp camp at 10:00am
Thank you for visiting!
Esther